This article or section needs to be cleaned up to conform to a higher standard of quality.
See How to Edit for help, or this article's talk page.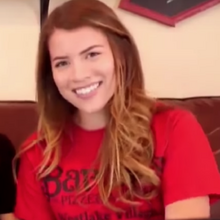 First and last appearance on the 12/7/15 Game Theory Livestream. She delivered pizza to Matthew and Stephanie Patrick after they made the first actual call on a cellphone through Minecraft to order it. She was "kidnapped" momentarily, and ended up staying for a while to talk and recive flowers and diamonds before they took part in the current record for the largest Minecraft selfie.