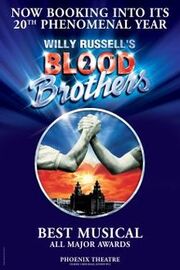 Blood Brothers is a highly successful musical by created by Willy Russell. It was one of the many plays MatPat was in before he quit acting and started Game Theory.
Play information
Blood Brothers is about identical twins Mickey and Eddie, who were separated at birth and one was raised in a poor family and the other in a wealthy family. As a result of opposite upbringings, one twin ends up unemployed and in prison, and the other a councilor, respectively. They fall in love with the same girl, tearing their friendship apart and leading to the tragic death of the brothers.
Originally presented as a school play, it made its debut in Liverpool, England, and soon after it was transferred to West End in 1983. It won the Laurence Olivier Award for Best New Musical and went on a year-long national tour, after which it returned to West End in 1988, and stayed at the Albery Theatre for three years. It moved to the Pheonix Theatre in 1991. In West End, it ran for 24 years, had over 10,000 successful performances, and become the third longest-running musical production in West End history.
Credits
The following credits are from a recorded play on The Game Theorists:
Recordings